One of the rarest type of developments in Singapore, the integrated developments, are developments in which the residence is linked to the MRT station, shopping mall, bus interchange and more, offering the highest level of convenience to the residents. It is certainly not available in the market all the time, but interesting, we do have 2 quality integrated developments for sale today –
Sengkang Grand Residences
at Buangkok MRT and
The Woodleigh Residences
at Woodleigh MRT. Let's take a look at their attributes.
A NEW LEVEL OF INTEGRATION
In the past, integrated developments mainly integrates the residence, MRT, shopping mall and bus interchange together. Some past integrated developments include The Centris and Bedok Residences. Since the last integrated development (before the current ones) – North Park Residences, we see a new level of integration with the addition of a Community Club, thanks to the thoughtful planning of our government. Let's take a look at Sengkang Grand Residences and The Woodleigh Residences.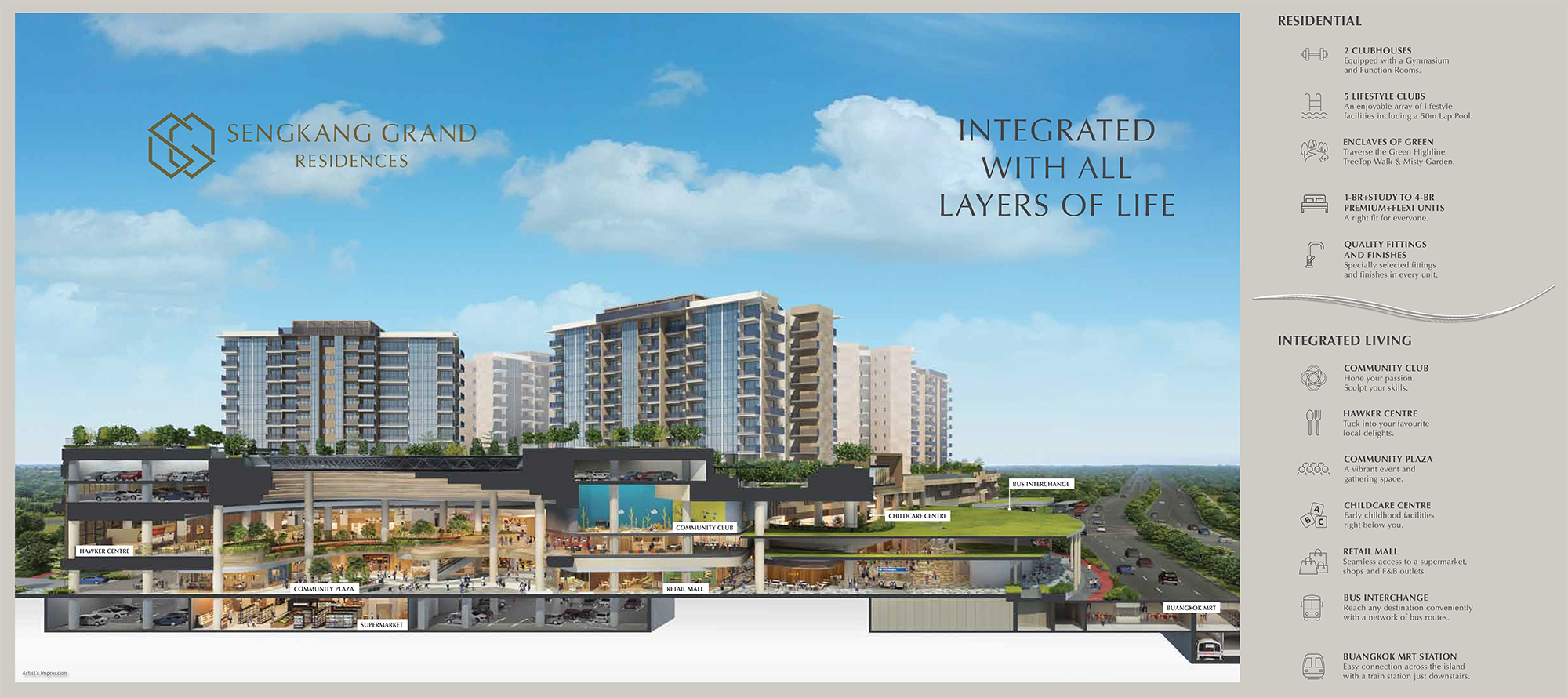 For
Sengkang Grand Residences
, besides the integration of the residence, retail mall and bus interchange, the integration also includes a community club, hawker centre, community plaza and childcare centre.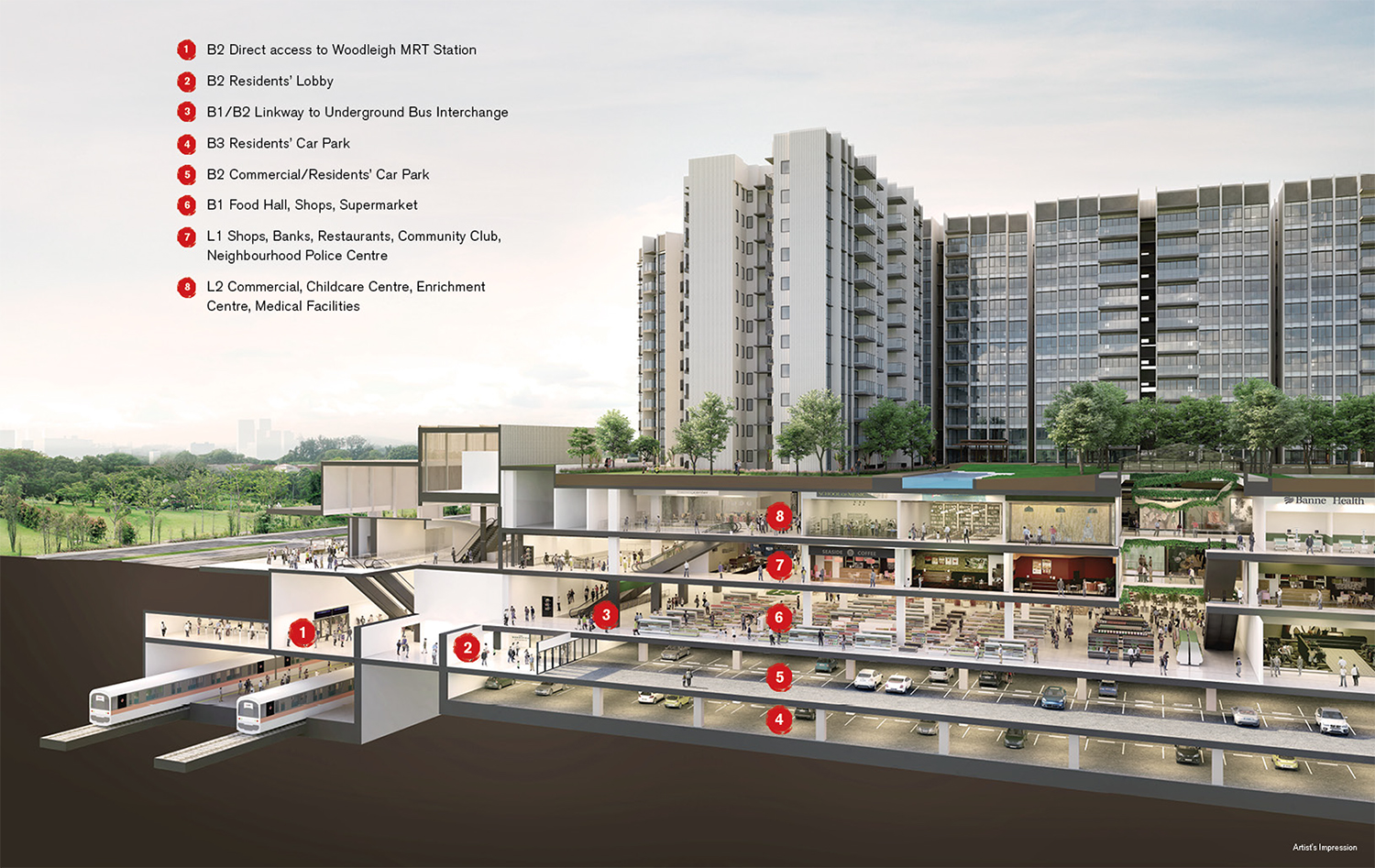 For
The Woodleigh Residences
, besides the usual integration, there will also be a community club and a neighbourhood police centre. The bus interchange will be Singapore's first underground bus interchange and the mall will offer amenities like Food Hall, Childcare Centre, Enrichment Centre and Medical Facilities.
LOCATION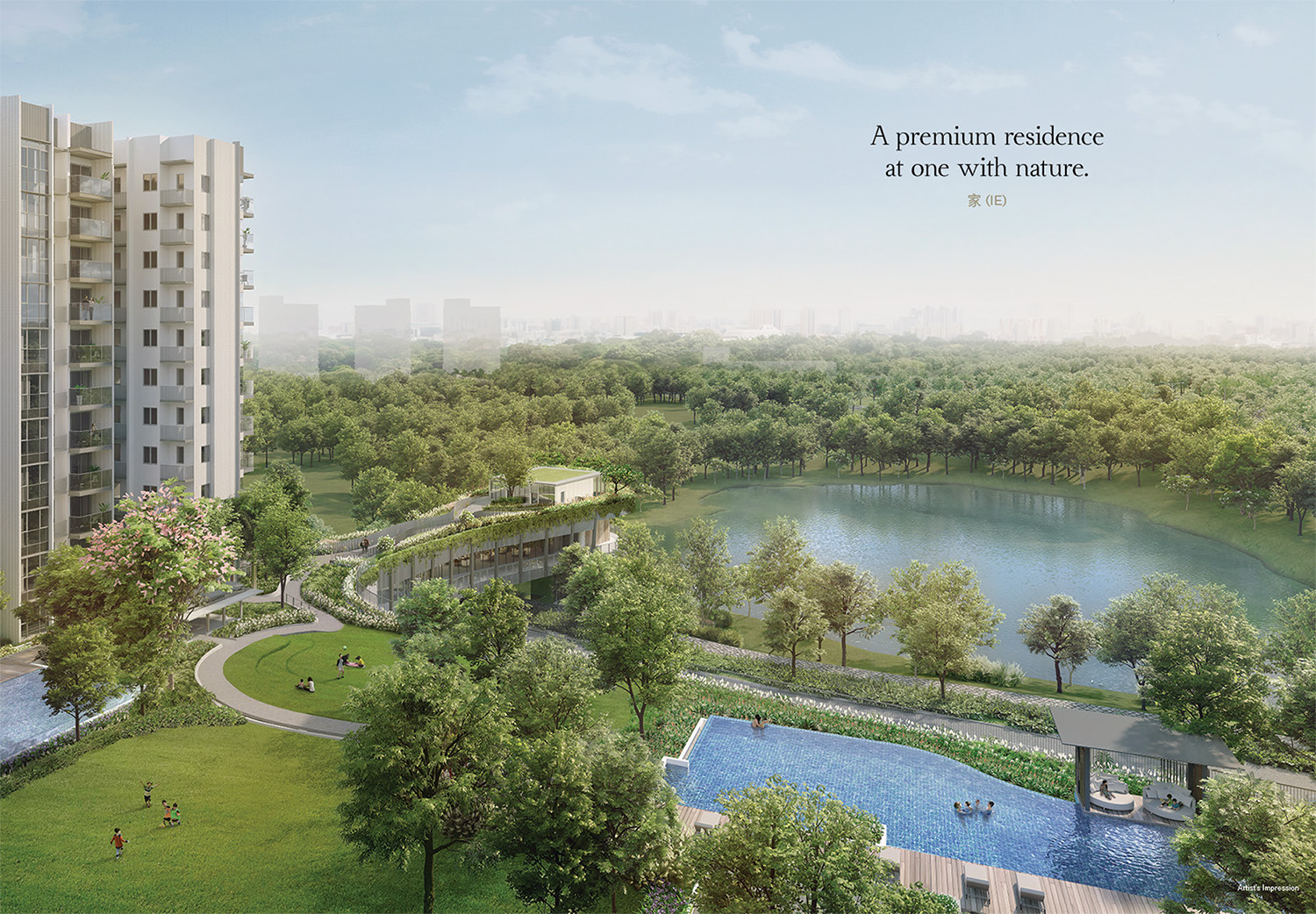 When you have a shopping mall (take note we are referring to a proper large-scale one) and MRT station right at your doorstep, not to mention the other amenities, the location certainly deserves a 5-Star rating.
Being in an established estate,
Sengkang Grand Residences
is also near to numerous schools, Sengkang General & Community Hospital and the upcoming Punggol Digital District. For
The Woodleigh Residences
, I have to say I really love this location. Not only is it next to Alkaff Lake and the 10 hectare Bidadari Park, it is also diagonally opposite Stamford American International School and near top schools like Maris Stella High School (Pri/Sec), Cedar Primary School and Cedar Girls' Secondary School.
DEVELOPERS
Sengkang Grand Residences is jointly developed by 2 of Singapore's most renowned developers, City Developments Limited and Capitaland, while The Woodleigh Residences is jointly developed by SPH and Kajima. I would say both City Developments Limited and Capitaland need no further introduction, with each having a long list of past developments as track record. The trust that people have on these developers was clearly shown, with 216 units being snapped up during the 1st weekend of sale when Sengkand Grand Residences first launched in Nov 2019.
While SPH and Kajima do not have such a long list of track record of developments in Singapore, SPH is proven and established in real estate development, having developed Sky @ Eleven. SPH also owns and operates The Seletar Mall, Paragon, The Clementi Mall and The Rail Mall. As for Kajima, which is a leading contractor, engineer and developer in Japan, it has developed luxury residences like Sui Generis and Bishopsgate in Singapore. Kajima's portfolio also includes Regent Singapore and Millennia Singapore.
SIZE OF THE MALL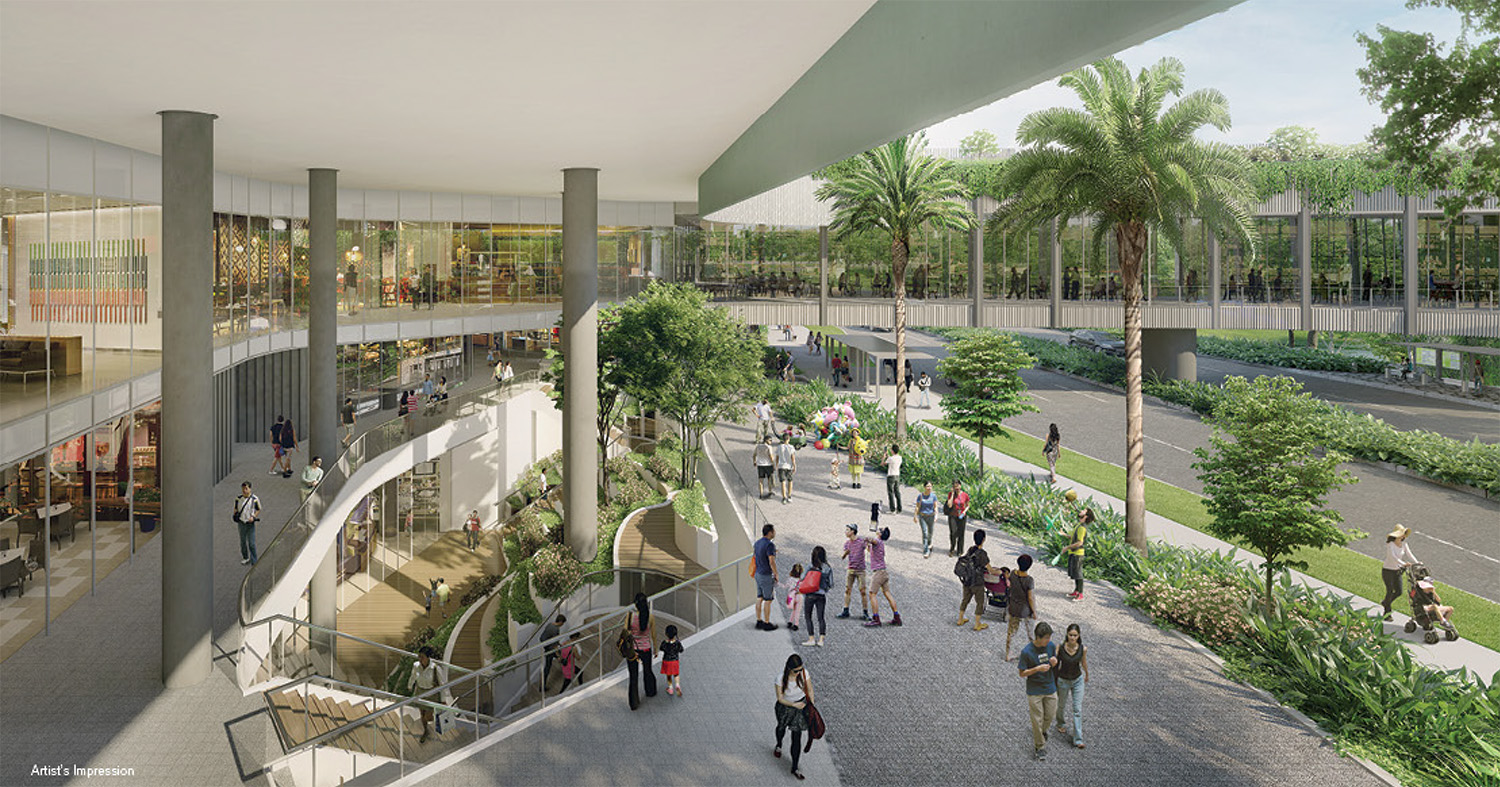 To understand the scale of the shopping malls in
Sengkang Grand Residences
and
The Woodleigh Residences
, let's look at the total retail floor area of some existing malls for references. For example, Nex is about 600,000sqft, Waterway Point is about 370,824sqft, The Seletar Mall is about 188,000sqft, The Clementi Mall is about 191,000sqft and The Poiz Centre is about 50,000sqft. Sengkang Grand Mall is 160,070sqft including the 1,000sqm childcare centre while The Woodleigh Mall is 298,881sqft. Thus, we are looking at 2 large-scale shopping malls here.
PRICES & PROMO
Let's analyse the prices of these 2 developments now. The complete price analysis that we usually do for our clients include:
1) Check the transacted prices of nearby new launches and relevant resale properties to have a good feel of the exit strategy
2) Check the highest & lowest transactions of the development itself to see the edge/challenges that our clients will face during exit
It's a bit tough to present our findings in part 1 via a webpage so let's focus on part 2 here. Let's take a look at Sengkang Grand Residences.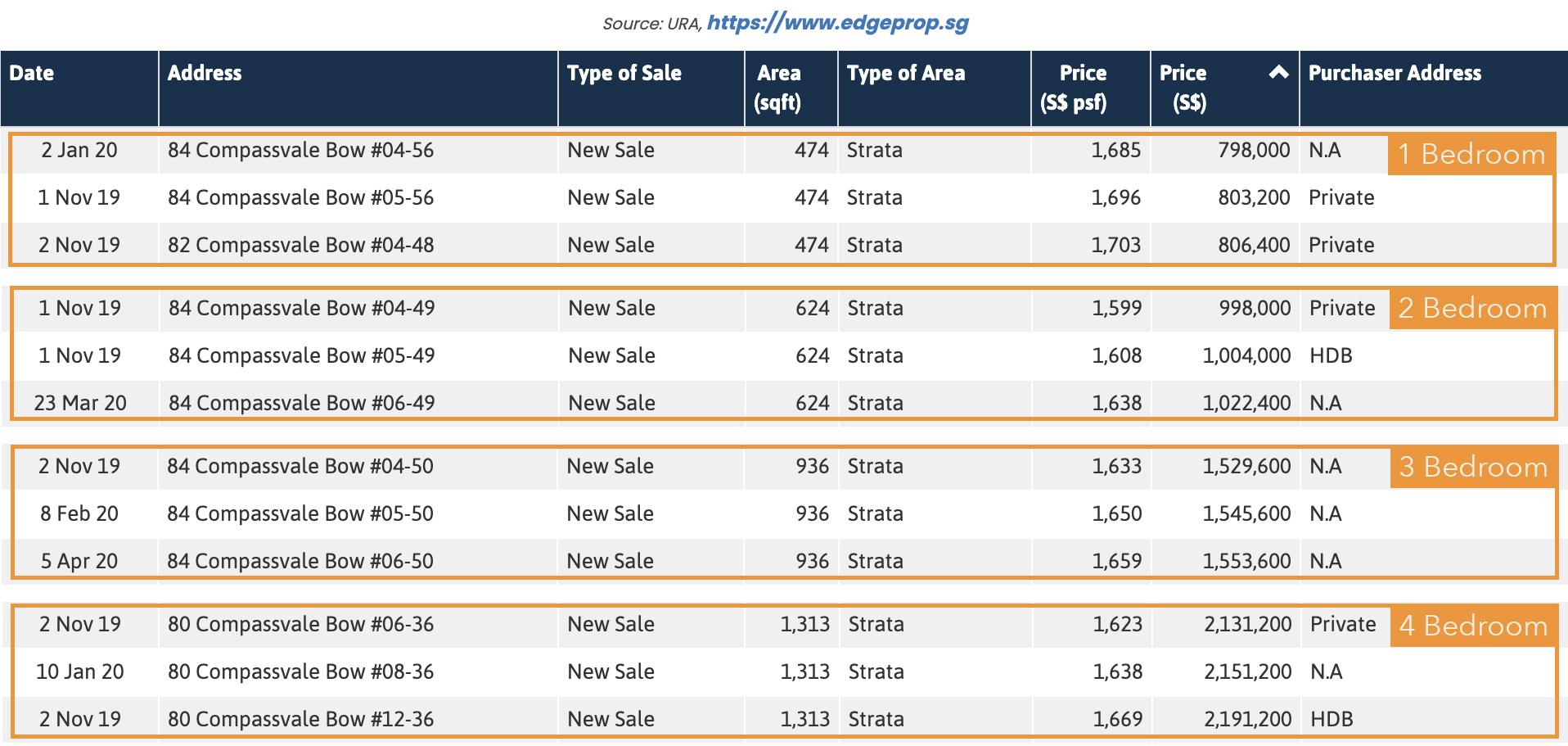 Lowest Transacted Prices By Unit Types For Sengkang Grand Residences. Source: Edgeprop.sg
Currently, we are having a promo with some additional discounts for
Sengkang Grand Residences
. After the additional discounts, the starting prices will be $824,40000 for 1 + Study (1 Bedroom 100% Sold), $1,093,600 for 2 Bedroom, $1,475,600 for the 3 Bedroom and $2,071,200 for the 4 Bedroom. As such, you know you are not buying among the lowest for the 1 and 2 Bedroom. If you are interested in the bigger units, you can be rest assured that you are buying at the lowest, in fact with good additional discounts.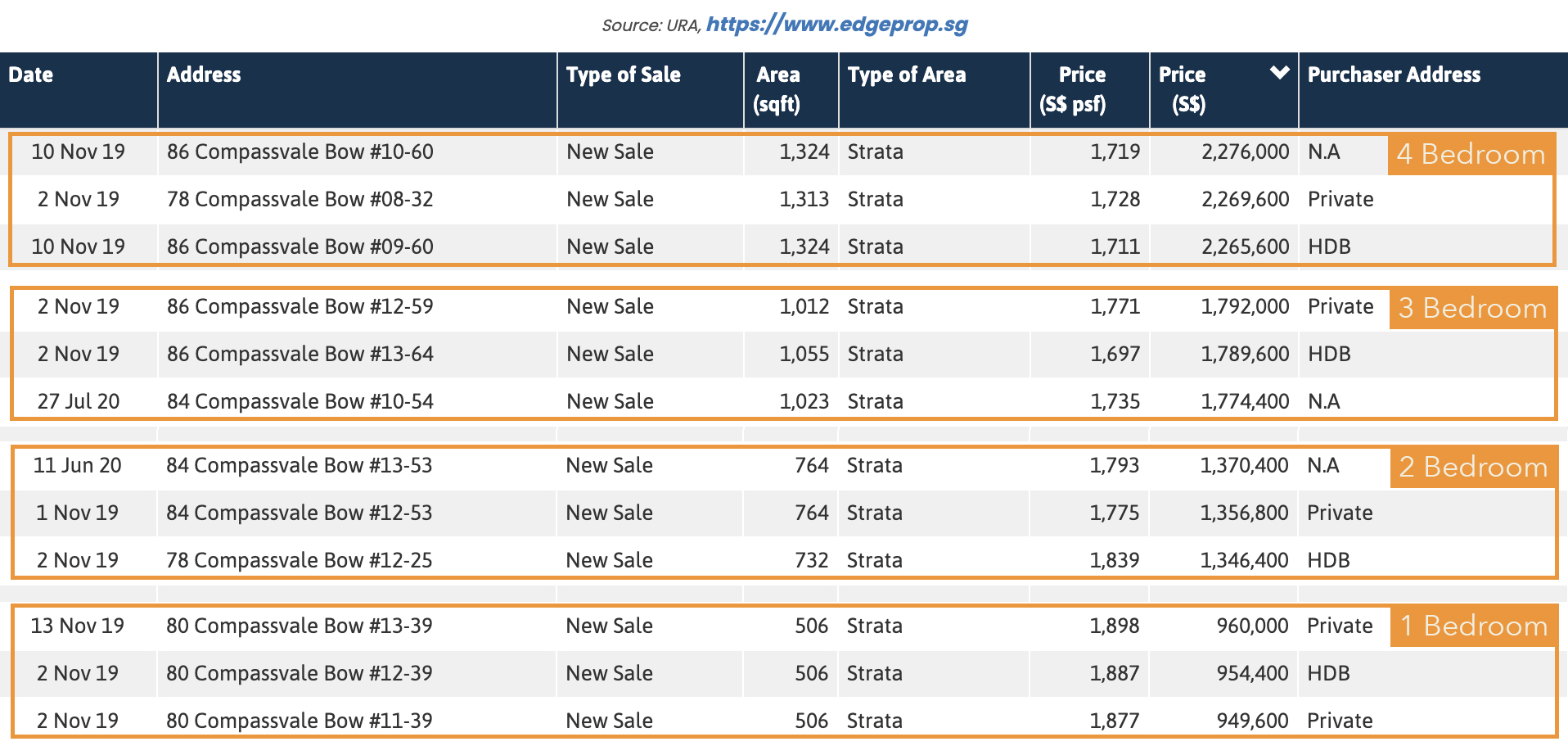 Highest Transacted Prices By Unit Types For Sengkang Grand Residences. Source: Edgeprop.sg
Of course, when it comes to buying a property, be it as a home or investment, we always want to love it. Hence, personally, there is no need to buy at the lowest. Let's take a look at the highest transactions for each unit types in Sengkang Grand Residences. While these transactions are usually for the larger or most premium configurations of each unit types, it usually allows us to see as of today, how high can these bedroom types actually go in terms of prices. In a way, it helps to set a benchmark for future prices as well. If the price of the unit you like is significantly below these highest transactions, then you can feel safe to buy.
But if you realise you are buying among the highest, and some of some tail-end developments you may be buying at the highest for a less premium unit, then our recommendation will be to avoid it unless you really love it. Oh yes, helping our clients make the best real estate decisions is our biggest motivation. People do make really bad decisions and it is really painful. You can avoid doing so by seeking our honest advices and tapping on our vast experiences. Feel free to call us for a non-obligatory discusssion.
Moving on to
The Woodleigh Residences
, unlike Sengkang Grand Residences which sold 216 units in its first weekend of launch, The Woodleigh Residences faced competition from another new launch right opposite, Park Colonial. As Park Colonial launched earlier, it has absorbed quite a number of buyers for this area, especially when buyers were aware of the higher land cost at The Woodleigh Residences. Let's take a look at the transactions and current promotions.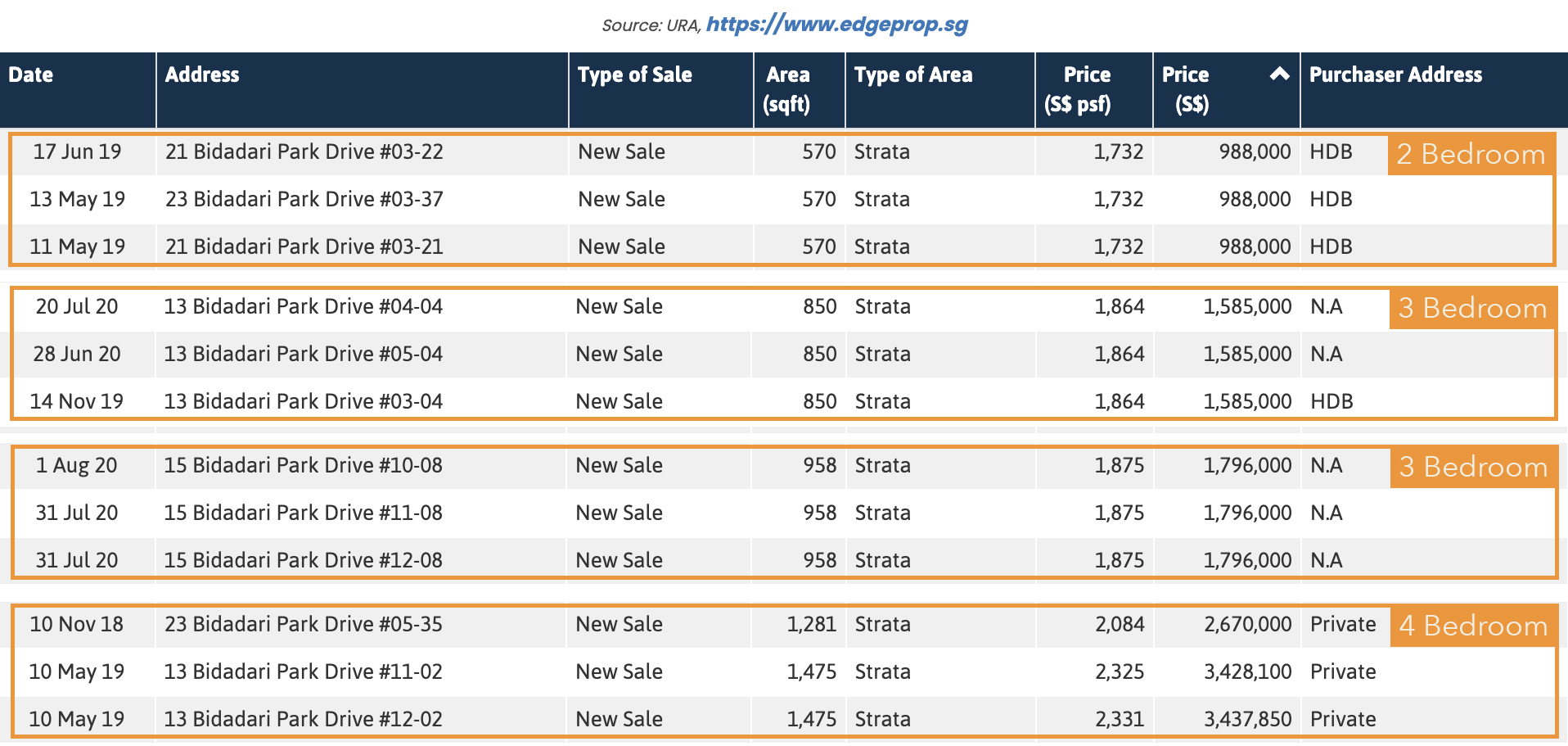 Lowest Transacted Prices By Unit Types For The Woodleigh Residences. Source: Edgeprop.sg
The Woodleigh Residences start from 2 Bedroom 1 Bath of 570sqft, making it really affordable for buyers looking for 2 Bedroom (probably the most popular unit type for new launches across Singapore). It has quite a variety of sizes of 3 Bedroom and we like to separate the smallest 3 Bedroom (850sqft) from the rest as personally, the 3rd bedroom is quite small and feels like a study for me. The starting prices for The Woodleigh Residences are $1.078mil for 2 Bedroom (as we are left with high floors now), One Price Promo of $1.796mil for the larger 3 Bedroom and $2.88mil for the 4 Bedroom.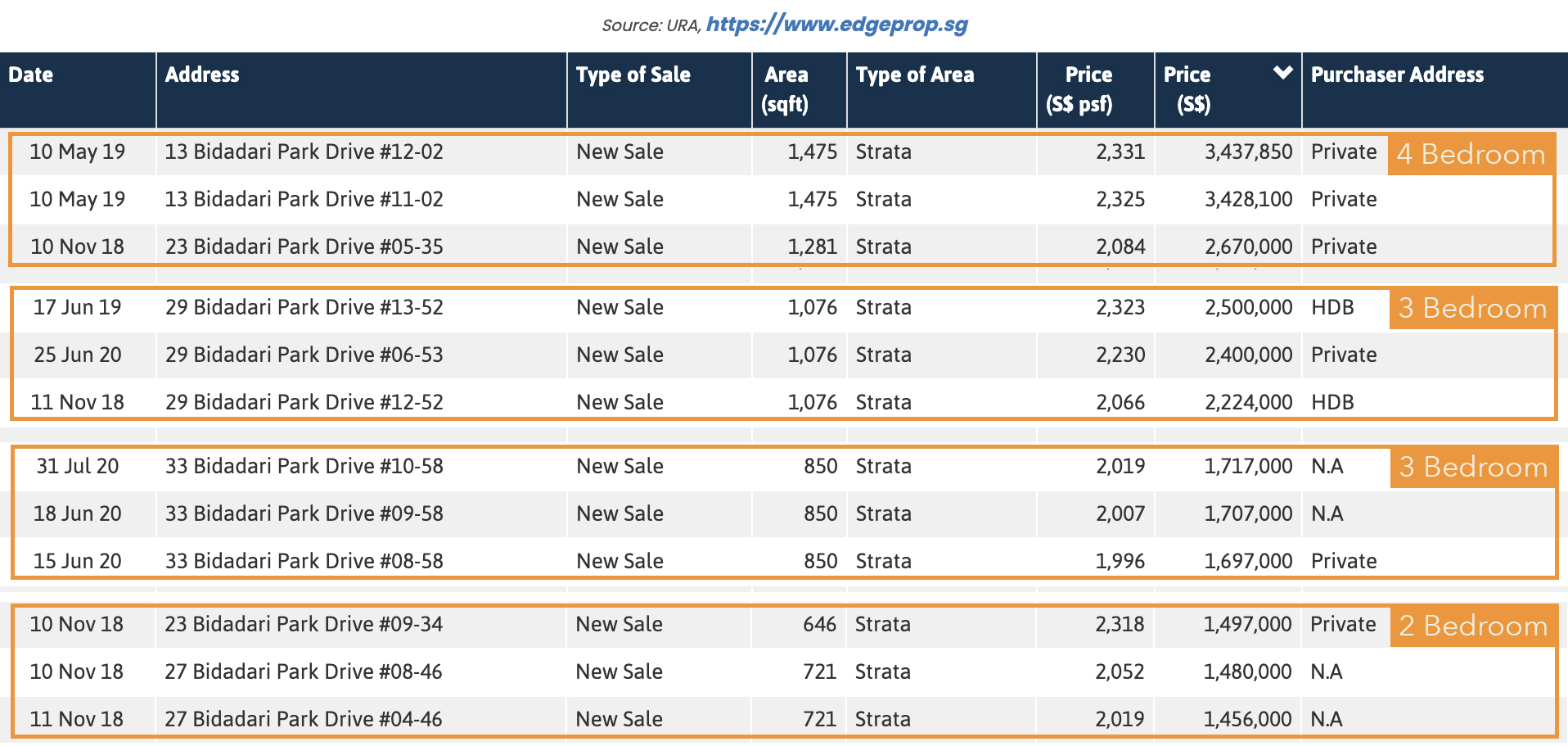 Highest Transacted Prices By Unit Types For The Woodleigh Residences. Source: Edgeprop.sg
If we compare with the higher transacted prices, it becomes easy to understand the buffer that your property value will enjoy. For example, if you grab the next best unit from the 3 Bedroom One Price Promo of $1.796mil, versus the highest transacted price of $2.5mil, this gives you a good $704K buffer. We personally think it is a very safe buy (wiser to go for the promo units) and let the premium units pull up your future value. Being integrated to a large-scale mall, MRT and more, and with a bridge extending across the road to the Alkaff Lake, we believe The Woodleigh Residences will be an exciting development to watch.
SUMMARY
It is very common, perhaps only make sense, for integrated developments to have a premium price. In fact, for the case of The Woodleigh Residences, the premium is pretty negligible if we compare with other city fringe developments which are near to a MRT station. Most importantly, it is the desire of people to want to enjoy the ultimate convenience and be the ones staying right above the mall and MRT when these developments are completed. You can see the good resale track record of other integrated developments such as North Park Residences. In summary, if you are looking for a home or investment in the North-East or Central part of Singapore, do give Sengkang Grand Residences and The Woodleigh Residences a good consideration.
More on Sengkang Grand Residences
More on The Woodleigh Residences
Call Us
/
Whatsapp Us
Now To Book Your Viewing Appointments